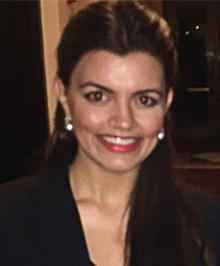 Education
The American International University in London
Master's Degree, International Relations

Baylor University
Bachelor's Degree, Political Science and Middle Eastern Studies
Alia Mohammed
Strategic Partner
CONTACT INFORMATION

V-Card
Alia Mohammed joined BlueWave Merchant Partners in 2020.
Since 2017, she is a Director of Public Affairs and Communications for Ocean Petroleum Inc. in Houston, Texas . She serves as the company's liaison between industry, financial institutions, government representatives, and community leaders on business development and corporate social responsibility matters. Additionally, Alia is currently a President Truman National Security Fellow focused on Energy Security matters and sits on the Baker Institute's Roundtable for Young Professionals in Energy.

Earlier in her career, Alia was appointed by the Obama Administration to serve within the U.S. Department of Energy in the office of Energy Policy and Systems Analysis. In this capacity, Alia covered the crude oil and natural gas markets through research, strategy, and analysis with the energy security team.

Alia has also served as policy advisor at the U.S. Department of Commerce's International Trade Administration to advance U.S. business interests worldwide. She presided over all commercial and foreign military exports to Europe, Central Asia, Russia, Turkey, and in this capacity, Alia had a particular focus working with American energy companies seeking to expand their international opportunities. Overall, Alia's diverse portfolio at Commerce generated over $25B in U.S. exports and supported thousands of American jobs.

Alia began her tenure in public service in the White House Office of Legislative Affairs, specializing in finance, budgetary, and energy issues and developed her career in the private sector in London, U.K. at a boutique wealth management firm. She holds an MA in International Relations from Richmond, The American International University in London and also degrees in Political Science and Middle Eastern Studies from Baylor University in Texas, where she received her BA.

During her government tenure, Alia was the recipient of the Silver Medal Award for Meritorious Federal Service from the Secretary of Commerce and was also a distinguished Women in Industry speaker at the Abu Dhabi International Petroleum Exhibition and Conference. Not to mention, Alia is a founding member of the Women in Energy mentorship program at Columbia University. She has been a guest speaker at New York University, and routinely volunteered with the Office of The First Lady during the Obama Presidency on efforts to mentor low-income and youth on the importance of a good education – a task she continues to stay involved with in Houston.